While restoring your All in-One WP Migration file, are you facing a "CORRUPTED BACKUP" error?
Are you facing a "The archive file is corrupted follow this article to resolve the problem" warning?
This article will help you how to solve these issues: All-in-One WP Migration corrupted file error, .Wpress file corrupted file. 
I will also show how to back up and restore WordPress manually with All-in-One WP Migration plugin.
Keep reading!
What is All-in-One WP Migration?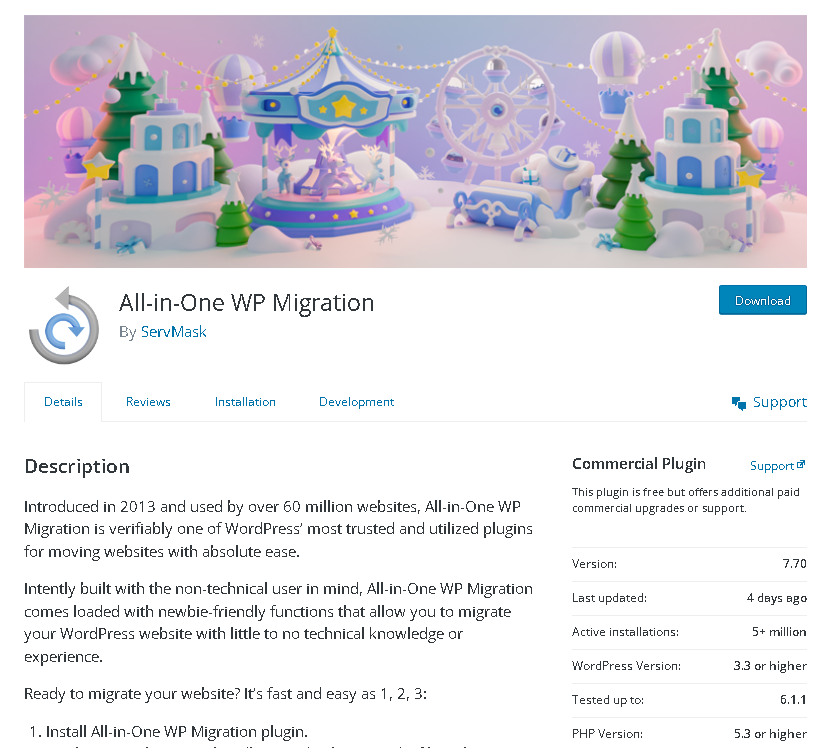 All-in-One WP Migration was released in 2013 and is currently used by over 60 million websites. It is one of the most popular and widely used WordPress plugins for quickly transferring websites.
All-in-One WP Migration was designed with the non-technical user in mind and is packed with beginner-friendly features that let you migrate your WordPress website with little to no technical expertise or understanding.
All-In-One-Migration is a simple and easy-to-use plugin that allows you to export your entire website into a single file, including all of your content, media files, and settings. This file can then be imported into a new website or used to restore your website in case of a problem.
What is the .Wpress file?
The .wpress file is a WordPress Theme file. It contains all the necessary code to make a website.
A .wpress file is a WordPress theme containing all the necessary code to make a website. It includes HTML, CSS, and JavaScript files for building a website.
Why would you need a plugin to migrate your WordPress website?
Migrating your blog can be difficult and time-consuming. This is why you need a plugin to help you migrate your site. Many plugins do this, but the All-in-One WP Migration plugin is the one that we recommend.
This plugin has been created by a team of WordPress developers with over 10 years of experience in the field. It is not only easy to use and efficient, but it also offers many features for free.
What are the features that the plugin offer?
Quick Migration: You don't have to go through your data manually; you can quickly import all your content and settings in a few clicks.
Advanced Migration: If you choose to do so, you can manually go through every step of your migration process. This is useful if some parts need special attention.
Import from existing website: If your site already exists and was built with WordPress, you can import your content and settings to the site with just a few clicks.
Control Panel: The plugin comes with its control panel that lets you choose what pages/posts/terms are imported, what schedule they will be imported on – and where you can manage every single one of your posts. If there are any questions or issues regarding your migration, this is the place to visit.
All-in-One WP Migration Plugin Upload Size Limit
The maximum upload file size in All-in-One WP Migration is set to 100 MB by default.
How I Saved My Site from the All-In-One WP Migration Corrupted File Error & Restored It Manually
I had a site backed up with the All-In-One WP Migration plugin. I wanted to restore this website on a different domain because I did not want to lose any of the content that I had on my website., but while importing the backup .wpress file, I received a message showing that the file was broken and corrupted.
Thinking that I faced a temporary error, I tried to import the file again, but it did not work, and I re-faced the same corrupted file error.
After some research on the internet, I found the below solution.
I manually re-downloaded the .wpress backup file from the cPanel and directly from wp-content/ai1wm-backups.

If you don't have access to your cPanel/hPanel or File Manager, you can log in via FTP and download your backup file manually from wp-content/ai1wm-backups.

I deactivated the hosting company plugin temporarily.
I uploaded the file using "Import from File" through the WordPress admin panel > All-in-One WP Migration and followed the steps.
You can browse your .wpress files online with Traktor Web
You can extract your .wpress files on your computer with Traktor Desktop
For more details about the error you're facing, visit wp-content/plugins/all-in-one-wp-migration/storage/error.log
If your backup were not fully downloaded from the source site, you would likely face a corrupted file error.

The best option for a corrupted archive is to take a new backup. If you cannot do this, please get in touch with our support team.
In this scenario, instead of downloading it from the download button on the WordPress admin panel, log into your cPanel or FTP and download it from the wp-content/ai1wm-backup folder.
Unsupported Hosting Providers
Unsupported Hosting Providers and Themes
https://help.servmask.com/knowledgebase/unsupported-hosting-providers-and-themes/
Supported Hosting Providers
Supported Hosting Providers
https://help.servmask.com/knowledgebase/supported-hosting-providers/
Sources /  For more information:
https://help.servmask.com/knowledgebase/corrupted-archive/
https://wordpress.org/plugins/all-in-one-wpmigration/